Make More February Cash with a Galentine's Day Deal They'll Love!
Barb Barb , 3 years ago
0
7 min

read
1122
In this article, you'll learn:
---
What Is Galentine's Day?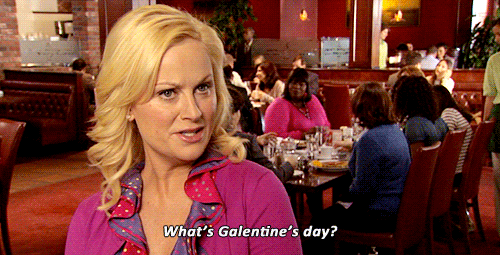 Every February 13, my ladyfriends and I leave our husbands and our boyfriends at home, and we just come and kick it, breakfast-style. Ladies celebrating ladies. It's like Lilith Fair, minus the angst. Plus frittatas."


— Leslie Knope, Parks and Recreation

Galentine's Day first appeared in a 2010 episode of Parks and Recreation. The unofficial holiday is main character Leslie Knope's favorite February tradition, taking place on February 13th. And what's not to like about celebrating female friendships, waffles, brunch, and acknowledgement of non-romantic relationships that enrich a person's life? Since 2010, Galentine's Day has shot up in popularity and been adopted by people—and businesses – across the US. The holiday that began as a fictional creation turns out to have filled a void in the Valentine's Day market, embracing many people who'd previously felt left out by Valentine's Day's focus on romantic relationships. Like its November and June cousins Friendsgiving and National Best Friends Day, Galentine's Day is an opportunity for friends to thank each other for the happiness, support, and joy they bring to each other's lives.


Give Your Business an Extra Holiday

Why focus solely on Valentine's Day, when you can have back-to-back holidays on February 13th and 14th? Galentine's Day is an opportunity for you as a small business owner to reinvigorate your Valentine's Day sales and expand your February deals to bring in more customers—without adding to your workload! You can market Galentine's Day and Valentine's Day specials at the same time, to make sure that everyone feels included—and your business has made them feel special, no matter what kind of relationship they're celebrating this February.


Step-By-Step: Create Your Galentine's Daily Deal

You can put together a Galentine's Day Daily Deal in under 15 minutes—and if you become a Vagaro featured business, you can extend your Daily Deal and keep it in the spotlight all month!


Name Your Galentine's Deal

Since Galentine's Day is a joyful celebration of female friendships, it's the ideal time to tap into your creativity and sense of humor when it comes to a name. For our example, we'll take inspiration from Parks and Recreation and create a Galentine's Day spa package named "Leslie & Ann's Galentine Spa Date." Have fun naming your package, but keep in mind that Daily Deal names are limited to 50 characters, including spaces. To help you get started, here's a short list of Galentine's-friendly names you can incorporate into your Galentine's Day deal!


Rockford Peaches Package


Romy & Michele's Spa Day Reunion


Sisterhood of the Traveling Massage


Divine Manicures of the Ya-Ya Sisterhood


Girls Trip to the Salon


A League of Your Own


Girls Just Wanna Have Fun


Towanda!


Give Your Galentines The Details

Here, you'll want to be descriptive about what the deal includes, to entice customers to visit with their Galentines. Keep your description brief but informative, and clearly outline what's included with the package. If you're promoting a service that customers might not be familiar with (like a pumpkin enzyme facial or a revitalizing coffee treatment), be sure to include enough information for customers to decide whether it's a service that's right for them. The more detailed and informative your description, the more likely a guest is to be tempted to book the deal. Daily Deal descriptions are limited to 500 characters, including spaces. Below, we've included a sample description (497 characters) for what Leslie & Ann's Galentine Spa Date includes, for you to use as a guide to follow behind when creating your Galentine's Daily Deal.


Template: Leslie & Ann's Galentine Fave

Show your squad some love with this Galentine's Spa & Movie Date package for up to 4 Galentines! Spa Date package includes a 75-minute Pure Relaxation massage (aromatherapy, scented massage oil, cool stone face massage, finished with a warm spa robe) designed to help you & your besties relieve stress, fatigue, & aching muscles. Package includes complimentary champagne, hors d'oeuvres & truffles catered by La Petite Maison and tickets to the movie of your choice, redeemable at Glenway Cinema.


The Fine Print

Your Daily Deal's fine print is your opportunity to detail the specific information about purchase and redemption. Don't forget to include in the fine print all the requirements, restrictions, and limitations. Remember to close any loopholes so your business doesn't lose money on a deal. Like service descriptions, fine print is limited to 500 characters, so brevity and clarity is key. Here's a quick list of information to detail in your fine print:


Duration of the deal – For example, 75-minute massage.


How many deals a single buyer can claim – Limit 2 per customer.


Party limits – Each Galentine's Day Deal may only add up to 2 additional Galentines at $150 each; to accommodate parties of 5 or more, additional Galentine's Day Packages must be purchased.


Redemption deadlines – Offer expires February 29, 2020


Expiration dates – Promotional value expires 120 days after purchase.


Value – No cash value on expired or unused Daily Deals, amount paid never expires.


Refund terms – No exchanges, returns, or refunds.


Whether deal is transferable – Deals not purchased as a gift may only be transferred to another party at the front desk with managerial approval.


Whether exceptions or substitutions will be accepted – No exceptions, exchanges, or substitutions.


How packages can be redeemed – Deals may only be redeemed via appointment, no walk-ins.


Template: Fine Print for Leslie & Ann's Galentine Fave

Below, we've included a sample description (487 characters) of the fine print for Leslie & Ann's Galentine Spa Date, for you to use as a template.


Galentine's Day package for 2, $239. Add up to 2 additional Galentines at $150 each. To accommodate parties of 5 or more, additional Galentine's Day Packages must be purchased. Good through February 29, 2020. Promotional value expires 120 days after purchase. Amount paid never expires. No cash value. No exchanges or refunds. No exceptions, exchanges, or substitutions. Purchases may be transferred to another person through front desk. Appointment required for redemption, no walk-ins.


Make More Money with Galentine's Day Marketing

A Daily Deal isn't the only way to serve more customers and bring in some extra cash in February! Here are a few additional marketing and sales opportunities you can cross-purpose to serve Galentines and Valentines! Whatever February marketing you decide to do—don't forget to take advantage of email and text marketing to promote your deals and reach the most customers!


Sales discounts – 20% Galentine's Day Services


Promo Codes – 20% select services with promo code GALENTINE


BOGO Offers – Book a Galentine's Day manicure for yourself & bring your bestie along for free!


Create a Galentine's Day Gift Guide in your online store


Host a Galentine's Day Happy Hour or Mimosa Brunch Social


Fitness Bundles & Packages – Your Bestie Wants to Spend More Time with You BOGO group fitness, yoga classes, spin classes, etc.


Extend Galentine's specials and deals to last all of February and bring in more bucks!


Create 'bounce back' offers – Encourage loyalty and repeat visits with an incentive to return, such as discount codes, re-booking discounts, coupons, etc.


---
In just 15 minutes, your Galentine's Day Daily Deal could be live and attracting the attention of new customers in your area! And as always, Vagaro Daily Deals put all the power in the hands of your business—you keep all the profits from your campaign, and you'll be able to track its performance from start to finish using Vagaro's top-ranked analytics and reporting tools. To make sure as many Galentines and Valentines see your February Daily Deals, try becoming a Vagaro featured business in February, and put your business on the first page of results in the Vagaro Marketplace and Pro App!


---

Header Image: Giorgio Trovato via Vagaro


Icons: Mia Montemayor via Vagaro

Related posts
About Vagaro
Vagaro is a cloud-based scheduling software commonly used by beauty, fitness, and wellness businesses to manage booking, credit card payments and processing, marketing, payroll, inventory management, reporting, and much more.