The Ugly Truth About Stress—And How You Can Help
Barb Barb , 3 years ago
0
4 min

read
1196

The first Wednesday in November is designated as National Stress Awareness Day. On this day, the goal is to identify stress factors in your life, and create a realistic, actionable plan to reduce or deal with these stressors. As our body's in-built mechanism to protect itself from harm, not all stress is bad. But too much (or the wrong kind of) stress can have a debilitating impact on our health, productivity, relationships, and overall quality of life. Once you've identified the kind of stress in your life, you can take measures to eliminate it, reduce it, or cope with it in a way that's healthy and sustainable.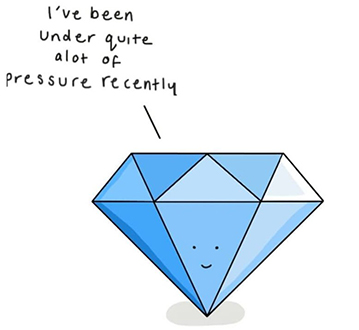 What Is Stress?

Stress is the body's biological response to perceived threats and immediate danger. Short-term (acute) stress is part of what kept the cavemen alive! Times have evolved, and while we're not battling saber-toothed tigers at work, our body doesn't know that, because our stress reactions haven't substantially changed. What has changed, however, is the emergence of long-term, chronic stress. This is defined as being subject to stress for a duration of days, weeks, months—even years! Chronic stress puts your health—and your quality of life! —at risk.


How Stress Affects Your Body

Physically, stress can cause the following symptoms:

Tension headaches


Difficulty breathing


Acne breakouts and other skin eruptions


Jitteriness


Inflammation


Decreased immune function


Hot flashes


Digestive issues, ulcers, weight gain


Insomnia


Increased risk of Type II Diabetes


Elevated blood pressure


Decreased libido


Disruption of menstrual cycle


Erectile dysfunction



And according to research conducted by National Institute of Mental Health (NAMI), over time, chronic stress impacts mental health. The most common mental health effects of chronic stress include anger management issues, substance abuse, anxiety, and depression.


Stress and Your Client Base

As a beauty, fitness, or wellness professional, your work/life balance may afford you a less stressful working life. This is not to say that your work is stress-free, but rather, that your industry affords greater opportunities for stress management and takes a more proactive approach to stress reduction. But your clients are another story. Part of your daily work may involve helping your clients manage their stress levels. This makes you an important player in helping chronically stressed clients find relief. In fact, studies show that spa visits particularly benefit clients, resulting in better sleep quality, fewer sick days, fewer stress-related medical issues, and reduced absenteeism.


Add Stress-Busting Services to Your Business Menu

You may already be providing these services to clients—but by framing them as stress-relieving procedures may encourage more stressed-out clients to book with you. You may also be inspired to add some new stress-relief services to your roster and Getting Featured on the Vagaro Marketplace and App to attract new clients by marketing your business as a place to relax and eliminate some of the chronic stress of their daily lives. Below, we've listed some of the most popular stress-relief services, ranging from spa and fitness to yoga and holistic practices. Whether you're in a salon, spa, fitness center, medical spa, naturopathic facility, or yoga studio, you're sure to find at least one stress-relieving service or product that might fit comfortably on your service menu!


Reflexology


Deep muscle massage


Stress-relief massage (Swedish, Hot Stone, Aromatherapy, Shiatsu)


Aromatherapy


Scalp massage


Exfoliation, mud baths, and body wraps


Acupuncture


Reiki


Padhabyanga


Mindful, holistic, botanical, or crystal facials


Ayurvedic Abhyangam treatments


Hydrotherapy, thermal spa, or Turkish Hammam


Stress-relief yoga


Tai Chi


Guided meditation


Looking for more inspiration? Check out how Vagaro Pro Rebecca Mattice, owner of Bloom Healing Botanical Spa, in Oakland, CA approaches holistic beauty treatments and has parlayed stress relief services into a successful business!


Resources

Below, we've included some reputable links on stress identification, reduction, and stress management to help make sure that you take care of yourself, as well as your clients!


---
Stress is one of the necessary evils of modern life—but as a beauty, fitness, or wellness practitioner, your profession empowers you to help your clients reduce their stress levels. If you haven't started using Vagaro yet, we can help reduce your work life stress by automating many of your daily administrative and marketing tasks, freeing up your time to focus on clients. Try us free for a month, and let us help reduce your stress level!


---

Header Image:

Related posts
About Vagaro
Vagaro is a cloud-based scheduling software commonly used by beauty, fitness, and wellness businesses to manage booking, credit card payments and processing, marketing, payroll, inventory management, reporting, and much more.