Top 10 Ways to Get More Business on Small Business Saturday
Barb Barb , 4 years ago
0
4 min

read
2514

When it comes to marketing during the Thanksgiving weekend holiday shopping rush, Black Friday and Cyber Monday get the lion's share of attention. These retail holidays are in the spotlight because they're closely associated with larger national chain stores that dominate the retail landscape, making it tough for small, local businesses to compete, even if they're lowering prices and offering Black Friday deals and Cyber Monday discounts.


Be Local, Buy Local: Shop Small!
Over 99% of all US businesses (roughly 28.8 million) are classified as small businesses, employing an estimated 48% of the American workforce and accounting for upwards of 64% of new US jobs.


For every $100 spent at a local business, up to $68 stays in the local economy. By contrast, only $43 of every $100 spent at a box store stays local.


81% of customers who take part in Small Business Saturday deals by shopping or dining locally report they'd encourage friends and family to support small local businesses on Small Business Saturday.


The History of Small Business Saturday

Small Business Saturday offers small, local businesses like yours an alternative to the Black Friday weekend madness by taking a different approach and encouraging consumers to shop small. During the 2010 recession, American Express started encouraging shoppers (and small retail merchants) to use the Saturday following Black Friday as a day to "shop small" and patronize small, local businesses. Rather than focusing on discounts and deals, Small Business Saturday focuses on the benefits of shopping small and stimulating the economy locally. That's because according to studies conducted by American Express, for every dollar that's spent at a small, local business such as your own, 67 cents of that dollar stays in your local community. Though many small businesses participating in "Small Biz Saturday" do offer sales, the focus isn't on extreme discounts so much as it's on community engagement.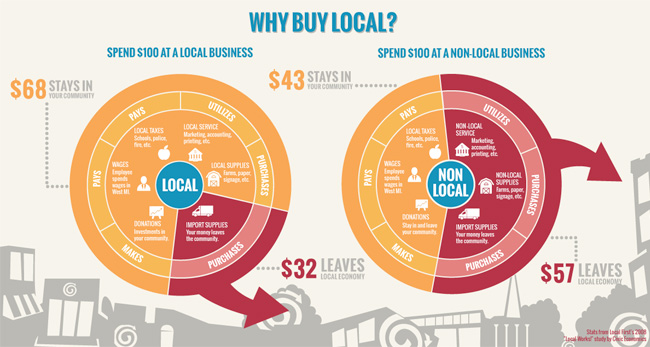 Top 10 Ways to Succeed on Small Business Saturday


Make sure customers are aware of Small Business Saturday, and how it matters to the community.


Speaking of the local community—involve them! Make your business personal to the community through participation in local events and creating promotions that benefit not just your business, but the community that you serve.


Personalization matters. Especially when you're going toe-to-toe with national chains. Every customized detail matters, from thank-you notes in every shopping bag to complimentary gift-wrapping stations.


Use email and SMS text marketing to build anticipation of the day and all the deals, sales, events, and promotions your small business plans to participate in. Use email to build anticipation and provide sale details. Then, follow up with exclusive Small Business Saturday deals delivered via SMS text marketing.


Put up signs! Nothing builds awareness better than memorable, branded visual reminders. American Express offers customizable print and digital signage to registered participating businesses.


Make sure your customer service provides a VIP experience. The greatest advantage you have over a box retailer offering deep discounts is the human side of your business. Make sure your customer service is top-tier!


Put the power of social media to work (and reward participation.) Use the hashtag list provided below to build anticipation with your social media followers and join larger conversations with other participating businesses. Then, offer an exclusive promo to social media users who check in or post photos at your business.


Devote time to your SEO. Boost your web presence with Search Engine Optimization (SEO) that helps your site show up in search results. Clearly advertise your participation in Small Business Saturday with targeted keyword and local content elements (business name, address, and phone number) that help search engines discover your business locally.


Register your participation in Small Business Saturday® with American Express. Then, leverage their free business boot camps, educational content, and customizable print and digital signage to drive local traffic to your store.


 Host a Small Business Saturday event—or join one! Once you're registered as a participating small business with American Express, you'll be tapped into your local network to plan and get involved in community events.


Small Business Saturday Hashtags

To boost your social media presence and make your Small Business Saturday deals, discounts, events and promotions more discoverable to new customers, use this list of hashtags for your social media posts.


Remember that to get the most visibility without having your posts flagged as spam, try to use 10 or fewer well-selected hashtags with your posts.
#smallbusinesssaturday #smallbusiness #smallbiz #smallbizsaturday #smallbizsat #shopsmall #smallbusinesssaturday #shoppingday #shoppingtime #deals #sale #bigsale #shoptilyoudrop #freeshipping #discounts #newdeals #retail #holidaysale
---
Kick off the Thanksgiving retail weekend with a Vagaro Daily Deal! It's free to create one through your Vagaro account, and you'll be able to make the most of holiday shoppers in search of a deal just like yours!


---
Header Image: Jacek Dylag via Unsplash
Related posts
About Vagaro
Vagaro is a cloud-based scheduling software commonly used by beauty, fitness, and wellness businesses to manage booking, credit card payments and processing, marketing, payroll, inventory management, reporting, and much more.